*** Visit TODAY'S CURRENT OFFERS page for CURRENT LIST of ALL OFFERS ***
9/18 update:
shopvioletvoss offer: New Violet Voss See You Later palette now available for $45.
This Set Contains:
– 20 x Eyeshadow and Pressed Pigment Palette
Beach Sand (matte cream)
Shoreline (matte apricot)
Mermaid Tail (metallic lavender)
Aquamarine (metallic aqua)
Toodles (bright, matte pink)
Jellyfish (metallic yellow-gold)
Scuba Dive (matte cobalt blue)
BRB (shimmering bronze-sparkle)
Red Tide (matte red-coral)
Coral Kiss (soft, matte orange-pink)
Sea Sparkle (bright, metallic navy blue)
Wavy Baby (metallic turquoise)
For Shore (metallic auburn)
Starfish (metallic peach)
Dolphin (metallic, smokey blue-purple)
Staycation (matte seafoam)
Sail (metallic reddish brown)
Tropical Storm (satiny deep coral)
Deep Sea (metallic violet)
Hasta la vista (matte pine green)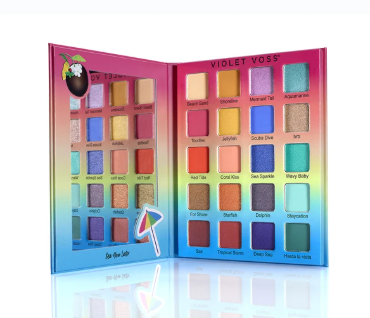 This post may contain affiliate links. Read the full disclosure.