As you can see in the image below, this is one of the most hip, personalized eyeshadow pans out there.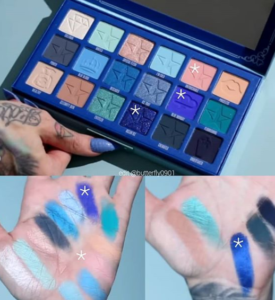 (the picture is from my friend)
The unique mix of a luxury jewelry box and coffin holds 18 blue-tiful eyeshadows. 3 of them are considered pressed pigments. I put a * next to those shades in pic 3: Untouchable, Blue Monday, & Ocean Ice. It's the same size as #BloodSugar but blue is a little taller.
Blue Blooded $52. 2 of the 8 shades are new: Ice Tray and Titanic. Other colors: Drug Lord, Jawbreaker, Blue Velvet, Abused, Diamond, and Medusa. 
Collection launches on 3/29 at 10 am PST on @jeffreestarcosmetics . It will also be available at @beautylish . I'm guessing morphe will have it as well.