Welcome to my official Sephora Sales Calendar 2020. You will learn much more than the Sephora Sale Dates 2020 here. We've already done the digging to find out exactly when Sephora will be having its best sales of 2020.  This is the master Sephora Schedule 2020 for all major Sales, Promotions, GWP offers, Deals, Promo Codes, Events, and More.
As the Sephora Sales 2020 pop up, I will add them to this master calendar. At times, I learn about promotions in advance. Whenever that happens, I will share them below. so be sure to bookmark this page and check back often.
the following is Sephora Sale Calendar 2019, You can guess this year's Sephora Sale Calendar by looking at the following, In addition, you can view Sephora Coupon, Promo Code, Free Gifts page, you can get timely information updates!!!
Sephora Sale Calendar 2019
January
2x points on skincare (mid-January)
New Birthday gift revealed
New Year's promotion for Rouges, Beauty Insider members got the chance to save with promo codes for 20% off, 15% off, and 10% off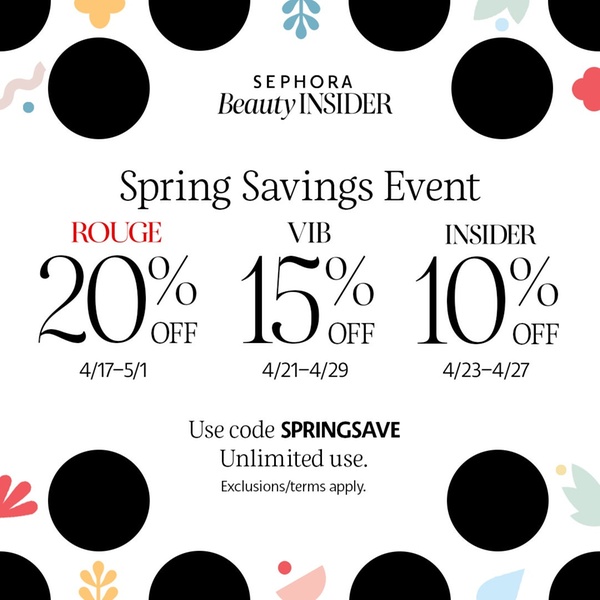 February
2 or 3x Points on perfume
April
15% off for Chic Week
Spring Savings Event: 10%, 15%, or 20% off for Beauty Insider members
Early May
3x Points on Perfume
Memorial Day Sale
Early June
Sephora Fall VIB Preview Sale
Late August
2x, 3x, 4x Points on all purchases for BI, VIB, and Rouge Members, respectively
September
October
Releases of Holiday Products
Game Promotion for Deluxe Sizes and Points
Friends and Family 20% off Sale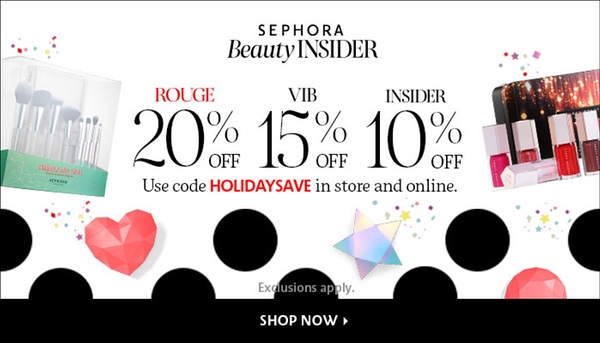 Mid-late November
Black Friday $10 deals
Cyber Monday, Sephora really makes a meal out of Cyber Week. For starters, shoppers could get their glamorous hands on exclusive Black Friday deals before Black Friday via the free Sephora app. There are often exclusive deals on the app, just text "APP" to 63485 get free VIP access.
Sephora's threw a SECRET SALE (starting at 3 a.m. EST on November 27).
Mid-December
Advent Calendar of deluxe samples
20% off Sale items
Beauty Insider Holiday Hooray Event: Sephora is having a two-week holiday sale exclusively for its Beauty Insider members! Sephora shoppers signed up for the free rewards program saved big! New members used promo code 2019HOORAY to save $15 on $75+ orders, VIB members saved $20, and the highest Rouge members saved $25! The best thing about this Sephora sale is that every product and brand was included. So you could save big on all things skincare, fragrances, haircare, and makeup.