*** Visit TODAY'S CURRENT OFFERS page for CURRENT LIST of ALL OFFERS ***
10/12 update:
Alyaka gift: Advent Calendar 2020 Luxe $250. 34 gifts. £490 value.
Alyaka Beauty Advent Calendar LUXE 2020 features:
Mauli Himalayan Healing salts 60 gr
UKA Deep&Light Scalp cleansing travel size 50ml
Olio e Osso Tinted Balm No.5 'Currant'
David Mallet Blush Spray Hydratant 50ml
Oskia Renaissance Luxury Miniature Cleansing Gel Luxury Miniature

  

35ml
Aurelia Day Cream Luxury Miniature 30ml
De Mamiel Revitalising Body Serum Luxury Miniature

  

30ml
John Masters Organics Hair Milk with Rose & Apricot 30ml

 

Rahua Voluminous Shampoo

  

Luxury Miniature 22ml
The Organics Pharmacy Peppermint Face Wash 20ml
Grown Alchemist Regenerating Night Cream: Peptide-3, Violet Leaf Extract 12ml
Susanne Kaufmann Enzyme Peel 15ml
Juice Beauty Cleanser 2-in- 1 Deluxe Miniature 15ml
Amly Beauty Sleep Deluxe Miniature 15ml

 

Soleil Toujours Cocofleur Hydrating Antioxidant Mist Deluxe Miniature 15ml 

 

Verso Nourishing Cream 15ml

 

Allies of Skin Promise Keeper Deluxe Sample 12ml
ARgENTUM La lune de velours Nourishing Oil Milk Cleanser Luxury Miniature 14ml

 

Kahina Argan Oil 10ml
Oskia Renaissance Mask Luxury Miniature 10ml
Zelens Transformer Instant Renewal Mask Luxury Miniature

  

10ml
Coola Sun Silk Drops 5ml
Ambuja Globetrotter mask 5ml
VENN Vitamin B Activated All-In-One Concentrate Deluxe Miniature 5ml
Ambuja SUPERSHOT Ampoule (2x2ml)

 

Leahlani Pamplemouse Cleansing Oil Deluxe Sample 3.7ml
Lilfox Haute C Bright Serum Deluxe Miniature 3.5ml
8 Faces Boundless Solid Oil Deluxe Sample 3ml

 

Nuori Infinity Bio-Fusion Serum Deluxe Sample 3ml
MZ Skin Retinol Skin Booster Luxury Miniature 3ml
Ilia Beauty Limitless lash mascara Deluxe Miniature
Kjaer Weis Lip Tint 'Sensuous Plum' Deluxe Miniature
Cosmetics 27 Mask Plasma 27 x 1 sachet
Pukka TravelTea Tin with 5 tea bags

 

Odacite Synergie[4] Immediate Beauty Perfecting Masque 7g x 1 sachet
RMS Beauty Mini Lipstick 'Brain Teaser' 1.8g
Alyaka Gift Card 20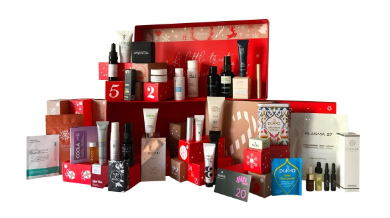 9/18 update:
Alyaka coupon: 10% off any $98 USD purchase with code FALL10; or 15% off any $195 USD purchase with code FALL15; or 20% off any $389 USD purchase with code FALL20.
All codes expire October 3.
Expired content:
8/26 update:
Alyaka coupon: 15% off any $132 USD purchase with code SUMMER15; or 20% off any $263 USD purchase with code SUMMER20; or 25% off any $592 USD purchase with code SUMMER25. Expiration unknown.
This post may contain affiliate links. Read the full disclosure.